Graduating from college is a momentous occasion that deserves celebration. Graduation is especially important for first-generation college students. We are so proud of all you have accomplished! The skills and abilities you have demonstrated will help you succeed for your entire life. Being a first-generation college graduate is a big deal! You are the start of a whole new legacy and have claimed your future. UMBC is proud to have been part of your journey and encourages you to extend beyond!
There are services available to you as an alum. For example, the Career Center's services are available after graduation to help you prepare your resume, practice for interviews, search for jobs, and apply for graduate and professional school. More information is available at https://careers.umbc.edu/alumni/services/. Additional services are available through the UMBC Alumni Association at http://alumni.umbc.edu.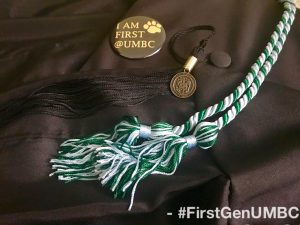 Cords are usually available the second week of December for Fall Commencement and the second week of May for Spring Commencement.  Graduating seniors will receive a message providing information on pick-up locations.
The graduation cord recognizes your outstanding achievements, and its colors are intentional. Blue represents the wisdom that you have acquired throughout your college career. Green represents the enormous growth and progress that you have exhibited in both your character and your academics.