Namrah Ashraf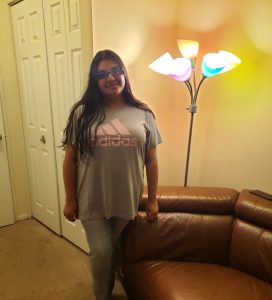 Namrah Ashraf is our November STUDENT OF THE MONTH!!! Read our interview with her as we discuss different topics regarding her experience in college and how being a first-generation college student impacted her.
Q: What do you like about UMBC?
A: I like the faculty and staff at UMBC. I was a transfer student in 2019 from the Universities of Shady Grove to Main Campus. At USG and the main campus, the staff was very accommodating. They helped provide me resources to get on track with the requirements for the main campus. Dr. Amanda Knapp was especially helpful. I enjoyed the experience I gained when I needed to switch a class and didn't know the process. She was very friendly and accommodating throughout the whole process. It was very clear that she is very passionate about what she does.
Q: What motivates you?
A: My nieces and nephews motivate me a lot. I am very passionate about children and my nieces and nephews motivate me to keep moving forward. I want to make the world they will be future advocates of a better place. I want to be able to struggle and find solutions to problems during my time in school so that they can have a positive university experience. Whenever I get stressed or I feel overworked, I call my sister and talk to my nieces and nephews. I feel like a much stronger person once the phone call ends. Also, watching my mother and father work hard to give my siblings and me a better future is a reminder for me every time I want to throw in the towel and say I give up.
Q: What advice do you have for other first-gen Students?
A: Being a first-generation student, I can tell you from experience, it is a terrifying position and a very stressful one. My advice is almost a step by step guide if you will. Step 1, Please please please take a couple of deep breaths. And keep repeating to yourself. This too shall pass and I will be ok. There were several times I wanted to throw the towel in because I was stressed about an assignment, overwhelmed, or just plain tired. My biggest advice is don't be afraid to ask for help. You are not weak or vulnerable if you go for help. ASK ASK ASK those questions. It may sound nonchalant and cliche but trust me there are no dumb or stupid questions. I would rather look dumb than find out I could have saved a couple of thousand dollars and a few semesters if I had just asked the questions. Throughout school one thing I lacked doing is self-care. Please if you feel overwhelmed, go for a walk, go for a swim, listen to that song that makes you dance, watch that episode of Grey's anatomy you have been putting off, eat that slice of chocolate cake because believe me you deserve it. Just pamper yourself even if it is for 10 minutes. Trust me it will go a long way.
Q: Do you think the term first Generation is seen as positive or negative? and why, if negative what can we do to change the connotation of the term first Gen?
A: I think the term first-generation is not seen as negative or positive for the most part because I feel not a lot of people understand what this term means. A lot of people are not aware of what the term means or if they are considered a first-student. I think it is a positive term because along with stress it is an honor in a way to be the first generation. I know after a long stressful week of exams when I check my grades and log on to my.umbc.edu, the sense of pride I feel knowing that I'm part of an honor institution.
Q: What would you like to see different for future students?
A: I would like to see ACES more involved in university life. I was a very active member of the ACES group; however, ever since I transferred to USG and then to UMBC main campus I have not heard much from ACES. ACES was a very helpful program for me and I wish there were more programs like it at the university level. If there are I would like to know about them so I can join.