Alexis Castillo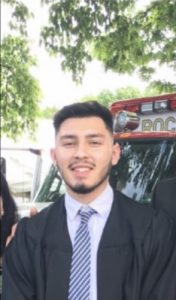 Our Student Of the Month for the month of February is Alexis Castillo. Congratulations Alexis Castillo on being nominated as our February Student Of the Month!! Alexis will be graduating with his B.A. in Psychology and a minor in Social Work from UMBC in May 2021. As part of our monthly Student Of The Month awards, we interviewed Alexis and found out his life story and his takes on being a First Generation college student.
Congratulations Alexis!!!
Q: Tell us about yourself.
A: Hello, my name is Alexis Castillo. I am 21 years old, and I am currently working on finishing my B.A. in Psychology with a Social Work minor. I am now in my last semester and will hopefully be graduating in May 2021!  I am the first in my family to go to college. I have three younger siblings, two 16-year-old brothers in which they are twins, and I also have a little sister who is 14 years old and just started to attend High school. I also have two amazing supportive parents who have inspired me to where I am now.
After high school, I attended Montgomery College. I finished up my Associate's degree first, and then I transferred to UMBC with the help of the R2R program that UMBC offers for coming transferring students. They helped me make sure that I had completed all the credits that I needed for me to transfer and help guide me through applying to UMBC. I also met many wonderful people along the way in which I could always go to as a reference if I ever needed help. (The Staff) Chelsea Moyer and Abigail Granger were such great support and help during that time, so shout out to them and were always there if I ever had questions or needed help, so if anyone needs help, please get in contact with them!
What I am accomplishing with my major while in school and about to graduate is I am serving and helping other students like me who are the first generation and talking to families about pathways to success for their children. I am working with a diverse population and students of a wide variety of ages. I am currently working with a non-profit organization called Opportunity Scholars as a Counselor and Program specialist, giving students an opportunity to go to Community College or University with little to no cost. I love the work that I am doing, and with the people I am working with, trying to give students an opportunity to continue their education and helping educate parents about the college process as well as being a support or reference if they need help. If I can do it, So can you!
Q: Do you think the term first Generation is seen as positive or negative? And why? If negative what can we do to change the connotation of the term first Gen?
A: For me, the Term first Generation is seen as something positive! To think about it comes down to your attitude. To me, the term first generation is something positive because I am the first. Something that maybe my parents weren't able to accomplish, but it was a desire and hope for my parents for one day one of their kids to go to college and graduate.
Another reason why it is something positive is because the chains were broken. What I mean by that is I have seen my parents work hard all their life to be able to provide for my family and me, and they would work hard labor jobs, and I started working at the age of 14 years old in hopes that one day I could go to college and just work my way through college as well. Now, instead of working a hard labor job, I will be graduating from college using the knowledge that I have learned while going through school and being able to apply it in real life situations. Also, just being financially stable which has helped lead me to become more independent. I love what I've been able to study because it doesn't feel like work because I actually enjoy what I am doing!
Now that I am about to graduate, I know my younger siblings have seen me grow through my college journey in hopes that I will be able to help them through the process and that they can also go through college and make something out of themselves that they may not have thought they could have done. Nothing is impossible if you put in the work!
Q: What advice would you give a first gen student who is first starting college or about to start the college process? 
A: Advice that I would give a first-generation student is that I know you may feel overwhelmed and stressed at moments but take a moment and breath. I would suggest taking a moment and doing things one step at a time. I know it looks like a lot as a whole, but if you break things down and do one step at a time, then all the steps you take will start to add up into something big like finishing all the steps. For example, we can apply this to each semester when you're crossing out the list of required classes you may have to take. It is one step closer for you to complete your class requirements—one step at a time.
Q: What would you like to see different for future first gen students? 
A: What I would like to see different for future first-generation students is DO NOT be afraid to ask questions! Asking questions will help you grow in many aspects and expand your understanding in many areas that you may not have understood before. I would like to see more unity between students in knowing that they are not alone.
Q: What do you like to do in your down time?
A: I like to do things like spend time with my loved ones in my free time! I love watching movies, playing soccer, and investing in stocks. I also like reading financial literacy books and reading books that help me grow or learn something that I may not have known before!
Q: What is something you wish you knew before that you know now? 
A: Something I wish I knew before that I know now is just educating myself financially and just being more financially literate. It is not something they necessarily teach you in school but it would be interesting if they would create workshops for students to educate and prepare them for life and adulthood that would be amazing!