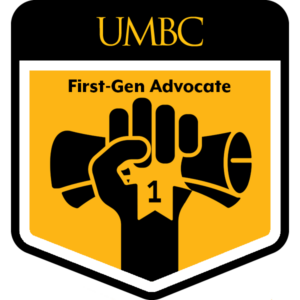 The First-Gen Workgroup at UMBC invites you to participate in the First-Gen Advocates Training. This training aims to create a space to bring awareness and build advocates for First-Generation College Students (first in their family to complete a bachelor's degree) within the UMBC community. This training will help you recognize the whole student and the many factors that influence first-gen students' personal, academic, and professional success. We hope that by completing this training you will develop a better understanding of the complexity of the first-gen student experience so that we can offer an amazing support system for all UMBC first-gen students. Participants who complete the full training will earn the "First-Gen Advocates" badge. Learn more about the benefits of digital badges here. 
This training is asynchronous and can be started and stopped at any point and continued at another time. The time commitment for completion averages 2.5 hours.
By completing this training you will be able to:
Identify internal and external factors that affect the first-generation student experience
Define challenges first-generation college students face
Explain best practices for implementing change to support first-generation students
Self-Enroll in the First-Gen Advocates Blackboard Course:
Open Blackboard, then click on "Organizations" on the left.
Select "Organization Catalog" in the upper right corner.
Type "first-gen" in the search box and click "Go"
Select the downward arrow next to the organization, click "enroll" and then "submit".
Navigate back to the Blackboard Organization page and click on "First-Generation Advocate Training" to open it.
(For a step by step tutorial with graphics, visit https://wiki.umbc.edu/x/xI4MBg)