Hannah Sierra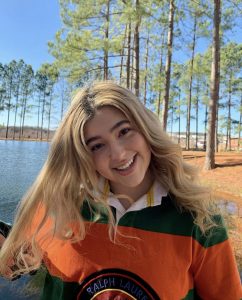 Congratulations Hannah on being nominated as our April Student Of The Month!! Hannah is a third year Mechanical Engineering major here at UMBC. Hannah is originally from San Antonio, Texas, but moved to Maryland a couple years ago. Besides being a full time student, Hannah is also the secretary for the Society of Hispanic Professional Engineers. Congratulations Hannah, and keep up the great work.
Q: Tell us about yourself.?
A: Hello, my name is Hannah Sierra. I am 20 years old and currently in my third year of pursuing a mechanical engineering degree here at UMBC. My hometown is San Antonio, TX, but my family moved to Maryland for a new job opportunity a few years back and that introduced me to UMBC. I have always tried to be a well-rounded student, active in a variety of artistic, athletic, cultural, social, and academic student organizations throughout my years of formal education.
I chose my major to be mechanical engineering because I feel that it is the most well-rounded STEM major offered. In my first two years at UMBC, I found that when professors implement interdisciplinary problems and solutions into the courses, I thrive. Another thing about me is that I am very outgoing and social. Being friendly and professional is a skill of mine, and with that, I tend to pick up the 'leader' role in many situations I fall into. Whether it's getting a group of people to decide on a place to eat or being a member in a group project, I naturally find myself taking control. With that being said, my goal after graduation is to pursue the position of an engineering project manager. Not only can I utilize my leadership skills in a STEM setting, but I also get to choose team members for the project.
I feel that interdisciplinary learning is the key to success in engineering courses but it stops after graduation. I want to defy the outdated, traditional standards of the field and bring people of different career paths together. My long-term goal is to be a highly-sought out, productive project manager and have the opportunity to work abroad. Cultural diversity is just as important as career diversity. As of now, I am the secretary for the Society of Hispanic Professional Engineers and will be moving up a position or two for next year's eboard. I plan to study abroad in Spain during Spring 2022 and that will lead me to gain new connections and experience for my end-goal of international project manager.
Q: What do you like about UMBC?
A: In my experience, UMBC is intimate and diverse. I admire how tight-knit and friendly the COEIT department is. The faculty are always hosting office hours and events to ensure there is proper communication between students and staff, and that is truly one of the most important things that a department can offer: support. Also, UMBC allows students to form a multitude of student organizations and that leads to a wide variety of cultural organizations and events. I grew up in a predominantly-latino community and that environment was always typical for me. Being at UMBC has opened my eyes to how many different practices, religions, holidays, foods, clothing items, and more are used and celebrated in various communities.
Q: What motivates you?
A: My one true motivation is my younger sisters. They view me as a role model and I know that my position in their lives is meant to empower them. Sometimes the courses I take are very difficult, or I am faced with personal issues, or I cannot find a parking spot on campus. No matter how big or small my struggles are, I want my sisters to know that I can persevere through it all. We are Mexican-American women who want to be successful in life, and with that, there will be barriers along the way. I recognize that being a young latina woman in mechanical engineering has a very low success rate, and there have been too many instances where I have felt the urge to give up. In those weak moments I constantly remind myself that there are other young women out there who are experiencing the same challenges as me. Eventually I snap out of it and remember that there are so many powerful women who have influenced me to continue along my engineering journey. If I push through, I hold the potential to make a positive impact on someone else.
Q:What advice do you have for other first gen Students?
A: Utilize all financial aid! If you are applying for admission to a college, check the college's financial aid website for scholarships the same day you apply. This applies for high school seniors, transfer students, and everyone else. There were over 10 UMBC scholarships I qualified for as a senior in high school, but I did not know that those opportunities were available to me. There are so many in-house scholarships colleges offer and the applications are usually not very time consuming and you can still apply to them after being admitted to the school.
Additionally, find a sort of friend/support/study group within your courses. I cannot emphasize how important it is to rant to someone in your classes about the tragic homeworks, the ridiculous tests, the lengthy group projects. I learned this bit of advice last year and after applying it this semester, I have been excelling in my courses.
Lastly, try to find time for yourself. Feeling overwhelmed is typical of students like us, especially if you have home and work responsibilities. Incorporating self-care into your commute to campus/work/etc., such as listening to music or doing a skincare mask, can improve your mood and productivity. It may seem impossible at times, but if you can, maximize the times when you have privacy.
Q: What could be done to help first generation students?
A: In an ideal world, non-first generation students should be more aware of the issues first-gen students face. For example, I had an acquaintance who truly believed that first-gen and POC students automatically received scholarships due to being a minority, and he was genuinely upset that there were so many resources extended to the minority communities and not his. I responded respectfully and educated him on the differences between his community and mine, and eventually he understood why the resources are in place. Unfortunately, we as first-gen students are not able to reach out and educate everyone with this mentality, as it is not our job to do so. But for the non-first-gen students who are aware of these issues, I would start small and possibly buy a struggling friend a coffee, or even offer lunch. The little things are what matter the most.
Q: What would you like to see different for future students?
 A: I would like to see more mentor/mentee relationships within the majors. The best advice given to me was from a mentor, not from a TED talk or a professor. Allowing yourself to be vulnerable with someone is such an effective way to communicate, and the mentor is able to reword advice specifically tailored for you. At this moment in time, I do not have a mentor, but I am hoping to find advice from upperclassmen in my major. The advice is general and usually straight to the point, but with a mentor, the guidance is personalized.
Q: What do you like to do in your down time?
A: I love to binge-watch Netflix shows with friends and call one another to digest the episodes. I would also consider myself a foodie, and am always looking for new places to eat. I recently started a new Instagram account for my food journey. I am not a gym rat, but I enjoy hiking, snowboarding, and go to yoga classes every so often. Overall, I enjoy trying new things and would consider myself spontaneous.
Q: What is something you wish you knew before that you know now?
A: In general, I wish I knew that nobody else's opinion of you matters but your own. Self-confidence is a thing many girls lack, and I struggled with that for a majority of my adolescent years. Obsessing over how I appear to others was so time-consuming and I wasted so much energy on trying to please others. At this point in my life, I am doing things for me, myself, and I. I am trying my best not to care about the opinion of others at the expense of my mental health.