April's Student Of The Month!!!
Congratulations Julia Aviles on being nominated as our April Student Of The Month!! Julia is an undergraduate student at UMBC, double majoring in social work and psychology at UMBC Congratulations Julia, and keep up the great work!!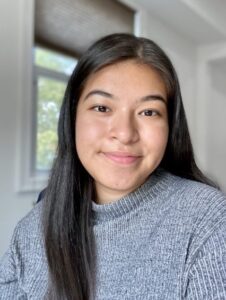 Q: Tell us about yourself. (what school do you go to, your major, what year, what do you hope to accomplish with your major after you graduate, etc)?
A: I am an undergraduate student at UMBC, double majoring in social work and psychology. Following the completion of my BSW, I plan to obtain my MSW in efforts to become a Licensed Certified Social Worker – Clinical (LCSW-C). I am very passionate about immigrant rights advocacy and I plan to work with the immigration and refugee population in my career.
Q:What do you like about UMBC?
A: I really appreciate that UMBC offers courses for social work and psychology majors at the Universities at Shady Grove. That really made a huge difference in how much tuition I had to pay out of pocket and provided me with amazing resources that are accessible to me through the campus. The staff at UMBC-USG are very dedicated to your success and really make the learning experience amazing. I also feel like UMBC is a very open and accepting institution that welcomes a diverse community.
Q:What motivates you?
A: I am motivated to be successful doing something I love, which is being the helping force for someone in need. I am not only a first generation student, but also a first generation American. Obtaining my degree is a huge accomplishment for my family, as they have immigrated thousands of miles to provide the best future for me. I am motivated to do better for my family and honor my ancestors' struggles.
Q:What could be done to help first generation students?
A: First generation students really need early interventions from elementary through graduate school, maybe even PhD programs. I was part of a high school intervention program called ACES (Achieving Collegiate Excellence and Success). I joined this program in 10th grade and it has followed me through high school (Montgomery Blair), then Montgomery College, and now UMBC at USG. The academic coaches have always been so insightful and dedicated to helping me figure out my course plan. I really relied on their support because I had to figure this all out on my own. That is something I have always had to do, but once I got to the time I was supposed to be looking into college I felt totally lost. Many coaches have been in the same shoes as the students so their advice is very helpful.
Q: What would you like to see different for future students?
A: I would like to see more support in place for students: more financial aid, more mentorship and academic/career coaching programs.
Q:What do you like to do in your down time?
A:I like to wind down by watching funny videos or shows. I really enjoy participating in activism; particularly immigration advocacy, and that may be through attending an action or tuning into the news and legislative meetings.
Q: What is something you wish you knew before that you know now?
A: I wish I knew that most things in life are not as strict as society makes students believe. Most students feel the pressure to succeed by having to take a specific academic path or career path or attend/intern/work at the best institution and organizations. When in reality a lot of the personal and academic success I have found in higher education has come from one-on-one faculty support, completing my degree on my own time expectations and being open to new experiences.
Q: What are your post graduation plans and how might you overcome first gen challenges in those spaces?
A: Post graduation I plan to obtain my Masters of Social Work (MSW) and work with immigrant and refugee populations. I thankfully have been surrounded by many first-gen social work students that have gone on to get their MSW, and I know I can go to them for advice. Faculty has also always been supportive in offering support and I know they make up my support system as well. Hopefully, I will qualify for scholarships and financial aid to fund my degree, which is usually one of the largest factors impeding first-gen students from completing post undergraduate degrees.
Q: If you could give any advice for future first generation students, what would it be?
A: You can do this. The college process is hard and confusing but you can do it! Now more than ever I have seen the emerging support for first gen students, so the help is out there. Just know being first-gen is something to be so proud of, and attaining your degree is an accomplishment for you and so many others.