Maithily Diaz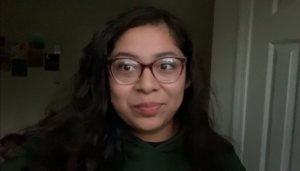 Maithily Diaz is our December STUDENT OF THE MONTH!!! Read our interview with her as we discuss different topics regarding her experience in college and how being a first generation college student impacted her.
Q: What do you like about UMBC?
A: I believe it is a very diverse place where we all have a chance to learn so much from one another, if we challenge ourselves. I came from a majority minority high school and figured I was open-minded and was culturally competent but I really wasn't. In my years here, I've learned about Hindu celebrations such as Diwali or common sayings in Arabic and much more. It's crazy how much diversity there is here and if we open our minds and reach out to one another, it is a huge learning experience about cultural competence and intercultural awareness.
Q: What motivates you?
A: The ability to make an impact, to challenge myself to be a better person everyday and make a difference in this world. As a Latina, there aren't many of us at any university. Nevertheless, I've grown up seeing health disparities, working with illegal immigrants who have no healthcare and the inequities affecting so many. So my motivation lies in the ability I have to change the world and help those around me. I am blessed to be a resilient, determined individual and am motivated to use my abilities to educate myself so I can empower those around me to believe in the change they too can make. Day by day, we can make a difference one person at a time.
Q: What advice do you have for other first gen Students?
A: I would say don't underestimate yourself and just keep on going, don't give up; you will face adversity but it will make you a better person, a stronger individual. When I came into college, I had finished working a 78 hour week job, 13 hours a day, 6 days a week. Starting undergrad, I didn't know how I would pay for tuition, I had no car and couldn't even afford groceries but I was completely on my own. So I worked full-time at various jobs around campus; while other students went out with friends on a Friday night, I was working 11pm-3am shifts just to wake up for a 7:30am shift elsewhere. It is unfair we don't ask for these challenges, we have no choice but that doesn't mean we aren't capable. We will have to work harder than most because we are first-gen, POC, etc, we all have our challenges but we can't give up. For our families, our communities, we can prosper and succeed because if we don't, then who will.
Q: What could be done to help first generation students?
A: Greater network system from those around us, in the areas we seek to study. For example, most of my friends are not first-gen; they are affluent, financially supported by their families, with larger houses than I think I'll ever have. Surrounding myself with other academically successful, supportive friends meant I wasn't able to meet other first-gen students. Oftentimes, first-gen students are running home to take care of their families or sitting in the back of the lecture hall after long shifts at work. I would love to meet other first-gen students who are pre-med or who are STEM majors so that we can sustain a connection throughout our courses and help each other out. I've always sought to help those around me, especially first-gen students like me but it's not you can just go around asking people if they're first gen!
Q: What would you like to see different for future students?
A: I would hope to see a platform for us to tell our stories and create change. I have always believed the strongest individuals are those who have struggled the most. I have been inspired by individuals who were raising a child while they were attending college, others who transferred from community college after working full-time to help support their families and on and on. I learn so much from others and I believe we all stand to listen and just learn. Oftentimes, minorities and marginalized groups don't have the platform needed to empower themselves. Thus, I hope UMBC will continue to take action to empower first-gen students and others who have not been afforded the same opportunities as other more privileged students. Talk is cheap, anyone can make something sound nice but it is through tangible actions that I hope the future is bright, especially for first-gen students.