Kaitlynn Lilly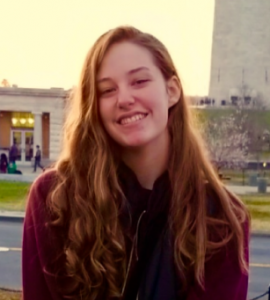 Lilly is a Sophomore majoring in Physics and Mathematics
Q. What have you enjoyed most about your time at UMBC?
A. I love how genuine the people are here. Every student and professor wants you to succeed and is willing to take the time and effort to help you achieve your goals.
Q. What challenges have you overcome as a first-generation student?
A. I overcame the challenge of the unknown. I had no idea what to expect and was incredibly overwhelmed by the college experience. After some time and with the support of my professors, peers, and advisers, I was able to overcome that fear of the unknown.
Q. What's your Why? Why are you pursuing a college degree?
A. I am pursuing a college degree to be able to attain my dream of being a professor. I am incredibly passionate about both teaching and research and would love to have a career that encompasses both of those things, but I need a college degree to do so.
Q. What advice do you have for other First-Generation Students at UMBC?
A. My advice to other First-Generation Students at UMBC is to take advantage of all the opportunities that UMBC has to offer because you can get a lot out of this school that will allow you to be the next one to inspire other students just like you.
Q. Who has been especially helpful to you at UMBC?
A. Dr. Justin Webster has been incredibly helpful to me in guiding me down the right path to be able to achieve all of my short and long term goals. Because we both took similar paths in college, he has been an invaluable part of my college journey thus far.
If you're a first-generation student who is doing great things at UMBC or in the world, you could be the next First Gen Student of the Month. Complete the nomination here